PayPal in hot water
Payments giant PayPal has got itself in some trouble for its business practices in Germany.


Germany's antitrust regulator has initiated proceedings against PayPal for allegedly hindering its competitors beyond a reasonable extent. A change to German antitrust law in 2021 gave regulators more power to lessen companies' market dominance.

The regulator is primarily concerned with the platform's merchant terms of use, which state that vendors cannot lower the price of their products and services for customers who pay using a lower cost alternative to PayPal. They're also prohibited from expressing a payment method-preference other than PayPal.
The move comes just a week after the same regulatory office warned Google about its terms of use, as regulatory pressure ramps up on tech giants in the market. If PayPal is forced to remove these terms, it may stand to lose revenue. And with shares down 53% YoY, that's not exactly what it needs right now.

Illustration by TradingView
Subscribe to Snaps
See the market snapshots that matter and nothing else – sent to your inbox daily. Designed to be read in 20 seconds or less.
Trouble in PayPal paradise
PayPal's Q3 earnings impressed, but pessimistic Q4 outlooks are threatening to spoil the fun with a slipping share price.


PayPal has revealed its Q3 earnings which were better than expected, with both its adjusted EPS of $1.08 and net revenue of $6.85bn coming in higher than analyst predictions. The company also announced the repurchasing of $939m worth of stock.

That's about where the good news ends for the company however. Share price plunged by 13% in aftermarket trading on Thursday, with investors concerned about a 9.5% cut to its revenue outlook – now only expecting 8.5% revenue growth for the full year.

The company's got plans to weather the storm and expects to add around 8m to 10m net new users in this financial year. It's also working with Apple to integrate contactless payment solutions – so it's still got a few tricks up its sleeve.

See all reported financials
Mariia Shalabaieva / Unsplash
PayPal HODLing pays off
Cautious but hopeful investors were given a treat of a packed earnings report from PayPal, coupled with a new activist investor.


PayPal popped as much as 13% in extended trading on Tuesday to build on five consecutive sessions in the green and a July recovery of 24%. A busy Q2 report boasted a beat on both ends, posting EPS of $0.93 on revenues that jumped 9% to $6.81bn, though the fintech did swing to a net loss of $341m from profits of $1.18bn a year ago.

CEO Dan Schulman's plan to improve operating leverage is working, and investors love the cost-cutting initiatives. PayPal plans to reduce costs by $900m this year and said the annualized benefits of that will save at least $1.3bn in 2023. The platform continues to gain popularity, seeing active accounts increase 6% to 429m, though that was slightly below estimates.

Elliott Investment Management revealed a $2bn stake in the company, becoming one of its largest shareholders one day after confirming it's now Pinterest's largest investor, and analysts say "tough love" from the activist investor has helped steer PayPal in the right direction. Added to that, investors got news of a $15bn share buyback program and a new CFO, so it was a busy day.

See all reported financials
PayPal / Unsplash
Elliot Investment makes a new Pal
Activist investor Elliot Investment Manager has turned its attention to PayPal, and investors seem confident that's a good thing.


PayPal popped 12% on Wednesday for its biggest one-day gain since May 2020, though prices are still down over 54% YTD. The boost came from news that Elliot Investment Management is building a stake in the company and is on the way to becoming one of the brand's five biggest shareholders.

The payments giant has been facing a load of financial probs. As it struggles with growth, PayPal has been firing staff and closing offices to cut expenses in the last couple of months, not helped by supply chain disruptions and decade-high inflation that's hindered e-commerce.

EIT has agitated some of the world's biggest companies into change, and plans to push PayPal to speed up its cost-reduction efforts. CEO Dan Schulman has been trying to figure out how to improve operating leverage and try to grow revenue more than expenses, so investors are hoping that the pressure does indeed make diamonds.

PayPal
Payments platforms play with crypto
Turns out not even a Terra meltdown can turn people away from crypto, with more and more brands expanding their repertoire in the growing industry.


PayPal will now allow users to transfer certain digital assets, including OGs like Bitcoin and Ethereum, off the platform and into their external wallets. It comes two years after the brand first opened its platform to cryptocurrency, and is all part of its efforts to boost the utility of both its own app and the crypto ecosystem.

A growing list of financial giants are taking the plunge into the bracing crypto pool, despite a Terra-ble May for the industry. Online payments company Checkout.com (which competes with PayPal) says it'll settle payments for merchants 24/7 using stablecoins, as well as allowing businesses to make and accept payments in USDC.

And it's been a good week for the #2 stablecoin USDC. Its parent company Circle is adding its token to the Polygon blockchain to eliminate the need for a bridge – that's probably safer cuz bridges are like catnip to hackers it seems. *cough* Ronin Bridge hack *cough*

Muhammad Asyfaul / Unsplash
Altcoins get a new Pal
PayPal's vice-prez Richard Nash gives altcoins something to cheer about, as the payments giant announces it wants to get digital assets onboard.


Digital assets are coming to PayPal, as its vice-president Richard Nash confirms at the World Economic Forum that it wants to support as many digital assets as possible on the platform. And yup, that means crypto.

Currently, PayPal is a pretty closed club to crypto, with only Bitcoin, Ethereum, Litecoin, and Bitcoin Cash able to be transferred on the website. Now, it's even rumored PayPal has plans to launch its own stablecoin "PayPal Coin".

Will we see thousands of cryptos uploaded overnight? Prolly not. While we are not privy to its plans, PayPal is unlikely to accommodate volatile tokens that have relatively small market caps, so cryptos residing in the top 100 are more likely to have a shot of adoption.

Rodion Kutsaev / Unsplash
PayPal makes a promise
PayPal investors cheer on the payments platform's pledge to reign in the spending and boost profits, despite a lowered FY forecast.


Prices popped 4% in extended trading on Wednesday after reporting a Q1 that was pretty much in line with expectations, boasting EPS of $0.88 on revenues that climbed 8% to hit $6.48bn. Shares are down 56% YTD, so they could really use the win.

PayPal's had a rough time of it this quarter, like most others. The firm has been dealing with former parent company eBay moving payments away from the platform, as well as the return of IRL shopping after covid, crazy high inflation (ergo less shopping), persisting supply chain pressures, and a CFO departure. Bc of all that, PayPal slashed its FY outlook, saying revenue will grow around 13% instead of 17%.

But it countered the outlook cut with a promise to "do better", with plans to cut down on spending to boost profits. It's recently switched strategy, focusing on quality of customers instead of quantity, and that's working so far with transactions per account jumping 11% in the quarter. The spiking stock price suggests investors are keen to see how it pans out.

See all reported financials
PayPal
PayPal earnings leave investors yearning
PayPal hands investors a double Q4 disappointment with its paltry earnings and slack forecast.


The stock plummeted over 24% in Wednesday morning trading after missing expectations with EPS of $1.11, even after lowering its previous forecast in November. Revenue managed to surpass estimates by the skin of its teeth at $6.92bn.

The future "lacks anything redeeming", according to Jefferies analyst Trevor Williams. It forecast "cautious" revenue growth of around 6% this quarter compared to the 11% analysts were expecting as it feels the sting of inflation, supply shortages, and a slowdown in shopping.

Tbf, it's taking a hit from the end of its operating agreement with eBay, which should ease next quarter apparently. It will still have to contend with slowing user numbers, but investors have enough to worry about rn.

See all reported financials
Illustration by TradingView
Becoming best buds with stablecoins
PayPal is keen to be pals with the crypto crowd, hoping its new friend PayPal Coin will get it invited to all the right parties.


PayPal confirmed that it's considering its own stablecoin after nosy fans found a clue in its source code.

It's aggressively expanding its crypto offerings in an effort to boost revenue, recently adding a bunch of tradeable cryptos to its platform.

Changing regulations could get in the way. The Biden Administration has been evaluating stablecoins, saying they should be regulated in the same way as banks.

Tezos / Unsplash
Paying it forward
Paypal does OK on Q3 earnings but the outlook isn't great.

⛔ Revenues were up 13% y-o-y this quarter, but disappointing forecasts for Q4 and FY saw the stock reversing after-hours on Monday.
📱 The Venmo App was an earnings headliner after starting to support cryptocurrency in April, and a new deal with Amazon has people excited.
👋 PayPal is saying goodbye to former parent eBay after sales volume dropped 45% in the last quarter.
🚨 But there could be trouble ahead. PayPal slashed its full year revenue guidance to $25.5 billion, with supply chain issues expected to cast a damper on the holiday season.
Pinterest whispers
PayPal lost 11% in three sessions last week on the back of a round of Chinese whispers – news was swirling that the payments platform was in acquisition talks with social media platform Pinterest. Investors were not thrilled, and prices sank 5% on Wednesday and continued their losses into the weekend. PayPal decided to address the "market rumors" as it called them, saying that there were no acquisition plans in the works right now.

PayPal ended Monday up 2.70% on the news, while Pinterest – who had gained 13% last week – tumbled down the same amount.
PayPal gets social
PayPal falls just under 5% after news hits that the payments company is considering buying digital pinboard and shopping platform Pinterest, which jumped just under 14%.

Elon Musk's fintech baby, PayPal, saw its prices fall nearly 5% in their biggest one-day drop since July as investors digested the news that the fintech company is in acquisition talks with social media platform Pinterest (PINS) for a deal worth an estimated $45 billion. The deal aims to support the payments app as it tries to become a "super-app", and reportedly values the company at around $70 per share, a premium of over 25% on Pinterest's ​​(PINS) closing price. Barclays analyst Ramsay El-Assal said:



The deal would be a big swing for PayPal and would represent a meaningful entry into the advertising business.


With the aim of expanding its offerings, PayPal is also in the process of building its own stock trading platform, and has invested in the "buy now, pay later" trend with a recent acquisition of popular Japanese payments platform Paidy. PayPal saw its shares drop 4.91% on Wednesday, while gleeful Pinterest (PINS) investors sent the social media's stock soaring 12.77%.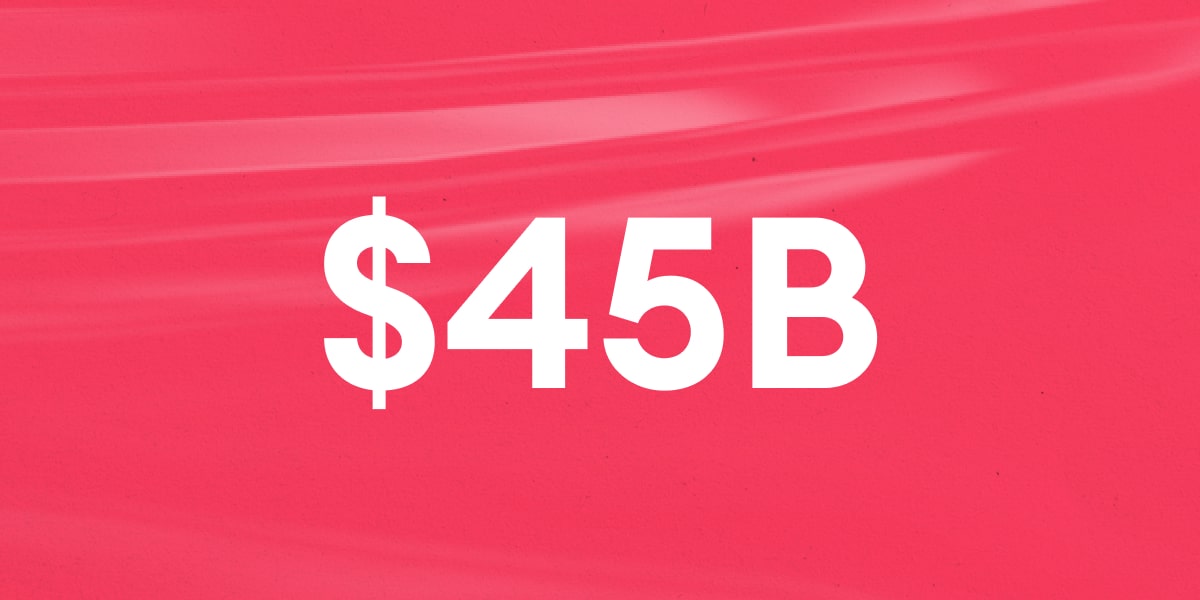 PayPal makes a push to get to the front of the race
The big boys are getting into the BNPL game, and PayPal just jumped on the bandwagon with the acquisition of Tokyo-based payment firm Paidy for around $2.7 billion.

The buy-now-pay-later (BNPL) market has seen a boom over the past 18 months as consumers have searched for ways to buy their coveted items without going into loads of debt, and now PayPal is looking to keep ahead of the game with the acquisition of Tokyo-based BNPL group Paidy. PayPal launched its "Pay in 4" scheme last year as a foray into the market in August last year, and this acquisition will be a way to expand into Japan – which boasts an online shopping market has more than tripled in volume over the last 10 years to around $200 billion.

The industry is becoming increasingly crowded with up and coming players like UK "super-app" Revolut and fintech superstar Klarna, and recently the big dogs have jumped on board too. Amazon (AMZN) acquired US-listed consumer credit provider Affirm last month to make instalment payments an option on the platform, and Jack Dorsey's fintech company Square (SQ) is expanding into the market too after buying successful Australian payments firm Afterpay.

The BNPL later is set to continue making gains, with the percentage of young consumers in the U.S. using the service increasing six-fold from 2019 to 36%, and it's expected that consumers will spend nearly $100 billion on purchases using installment payments in 2021 – up from $24 billion in 2020.
BrandFetch
Paypal slips on Q2 earnings, but crypto momentum is building
PayPal ends the week on a low note, down over 8% in two days following light second quarter revenue and a drop in profit from last year. The losses continue into Monday, sinking a further 1.65% to close at $270.99.

Shares of online payments giant PayPal lost just under 6.27% on Thursday after second quarter earnings results that left investors worried. The fintech firm beat on earnings but missed on revenue expectations, reporting earnings per share of $1.15 on revenues of $6.24 billion, compared to estimates of $1.12 in earnings per share on $6.27 billion in revenue. Net profit was down 23% from the same period the year before to $1.18 billion. However, it did manage to add 11.4 million new accounts, taking its user count to 403 million.

The payments platform has made big moves into crypto over the past year, launching a service in October 2020 that allowed users to buy, hold, and sell cryptocurrencies. It has since created a dedicated crypto and blockchain business to support the service, and as of March this year consumers are able to pay for items directly using their digital assets. According to CEO Dan Schulman, PayPal's crypto business has far exceeded expectations, and now the company is building out those operations by hiring over 100 new additions to join the team.



We continue to be really pleased with the momentum we're seeing on crypto and we're obviously adding incremental functionality into that,


said Schulman.

After its Thursday losses, PayPal sank a further 2.7% on Friday and 1.65% to make a loss of almost 11% in three days, leaving the stock at $270.99 as of Monday close.
Can't stop the shop - Paypal profits from the pandemic
It's been a volatile week, but PayPal was up 5% in after-hours trading yesterday after releasing its latest earnings – and raising its guidance, thanks to all of us shopaholics out there.

Households have been all over PayPal during the pandemic as online shopping got a boost from stay-at-home orders, and it looks like its popularity is set to continue as we all start to resume normal life. Who wants to trail around the shopping mall in person anyway, apart from moody teenagers?

The company reported $1.22 in adjusted earnings per share on revenue of $6.03 billion, compared to expectations of $1.01 in earnings per share on $5.90 billion in revenue. Total payment volume was $285 billion, and net profits rose to $1.10 billion from just $84 million the same period the year before, maybe thanks to the 14.5 million new active accounts it won over the quarter, bringing its overall user base to just under 400 million.

Revenue was up 31% since Q1 2020, and on the company's recent earnings call CEO Dan Schulman pointed to its investment in the crypto craze as a key engine for growth: allowing customers to buy, sell, and transact in cryptos. Total payment volume also surged by over 50% to $285 billion in the first quarter - making it the first year that its payment volume has topped $1 trillion.



"We've got a tremendous amount of really great results going on tactically with our crypto efforts,"


said Schulman. He also noted that half of crypto users open their PayPal app daily, suggesting increased user engagement.



"Our strong first quarter results demonstrate sustained momentum in our business as the world shifts into the digital economy. Our addressable market continues to grow as we launch new products and services for our 392 million active accounts."


With things going so well, PayPal has unsurprisingly upped its full year guidance, and now expects to earn $3.33 per share on revenue of $25.75 billion, up from the previous target of $3.20 per share on $25.5 billion in revenue. Net new active accounts are set to hit up to 55 million, up from 50 million.

With its network of now 26 million retailers, PayPal's crypto efforts could open up a whole new audience – making it one of the biggest crypto platforms in the US and potentially rivalling even Coinbase as a wallet provider and exchange platform. Sky's the limit.