Covid continues to curtail
China's zero-covid policy has been tough on retail businesses, and some now think that the last glimmer of hope has faded.


Alibaba's quarterly earnings weren't exactly what investors were hoping for. The Chinese e-commerce giant reported that revenue grew to ¥207.18bn ($29bn) over Q3, missing analyst expectations of ¥208.62bn ($29.2bn). That wasn't the company's biggest problem though.

The kicker was the fact that customer revenue fell by 7% YoY, which marks the steepest-ever decline in that segment which usually accounts for 30% of the company's revenue. Alibaba's CEO blamed reduced consumer demand and disrupted logistics due to covid restrictions.

Chinese internet stocks have had a lot to put up with this year, plummeting earlier this month on news that the government would be ramping up regulation of the sector dramatically. If that wasn't enough, some now think that China's potential easing of zero-covid policies was a flash in the pan affair.

See all reported financials
Alibabagroup
Subscribe to Snaps
See the market snapshots that matter and nothing else – sent to your inbox daily. Designed to be read in 20 seconds or less.
Alibaba strives to outrun delisting threats
Alibaba is confirming its commitment to a US listing despite regulators putting the company on their watchlist.


Alibaba shares ended July with a whimper, closing down over 21% for the month. The losses were accentuated by a 11% decline on Friday, which came after the SEC put Alibaba on its list of Chinese companies that might be delisted in 2024.

But BABA says "we won't go down that easy". The e-commerce platform on Monday sent shares inching up by just over 1% after it committed to doing everything possible to maintain its listing status in both the US and Hong Kong.

That being said, it's kinda out of their hands tbh. The SEC basically wants more info from annual audits, but China has blocked its companies and accountants from giving foreign regulators access to audit files – so Alibaba's fate is largely down to whether Washington and Beijing can come to an agreement.

tommao wang / Unsplash
Dual-listing delights
Alibaba is hoping that its dual-listing plans might help the company overcome its failed attempt at US domination.


Alibaba is applying for a dual primary listing in Hong Kong. The tech giant already has its shares traded on both the US and Hong Kong exchanges, but this secondary listing (if it goes through as planned) could make Alibaba the first big company with primary listings in both New York and Hong Hong.

Shares popped 6% in extended trading and 4.5% in Hong Kong trading on Tuesday, buoyed by the idea that a dual listing would open up a huge pool of potential investors on mainland China for the first time. It also means if something goes wrong (like another massive fine perhaps) that the stock will still have liquidity in Hong Kong.

Buuuut Monday's developments weren't all good. Alibaba also has plans to scale back its global expansion plans into the US, which began three years ago and aimed to dethrone Amazon as the e-commerce king, but has failed to meet targets to sign up 1m local US businesses.

Chi Hung Wong / Unsplash
Alibaba's given a glimmer of hope
Alibaba gets all those Friday feels from a day of exciting news out of China's central bank, which is good because competition is heating up.


The Ant Group's IPO looks like it could make a comeback. The People's Bank of China last week accepted its application to form a financial holding company, suggesting a chillaxing of the regulatory pressure that forced the company (which is Alibaba's sister brand) to delay its November 2020 IPO.

Alibaba shares popped and dropped on Friday, surging 9.2% before sinking to close up only 0.78%. Thanks to a carousel of bad news in the last few years for the Chinese tech industry, shares are now trading down nearly 68% from the ATH they reached in October 2020, just before the Ant IPO fail – other tech brands impacted by the crackdown rallied on Friday as well.

But JD.com is coming for BABA's food delivery domination. The Chinese e-commerce giant is considering expanding into the food delivery business, which is booming in the region. It'll put them in direct competition with Alibaba and Meituan, who right now are the top dogs of food delivery. So, a lot is in the air for Jack Ma's babies then.

bfishadow / Flickr
It's open sesame for Alibaba
Mega-brand Alibaba has been given a much-needed boost after news Chinese covid restrictions could be easing.


The e-commerce giant saw a 4.3% lift on Monday as investors breathed a sigh of relief, applauding news that Beijing plans to allow people to venture out of their homes again unimpeded. BABA has lost as much as 20% so far this year following China's strict lockdown, with the world's second-largest economy taking a no-nonsense, zero-covid approach that's affected local and global supply chains.

The news comes after Alibaba announced a Q1 earnings beat last week, with revenues up 9% to 204bn yuan ($30.7bn), despite the two-month restrictions making deliveries difficult.

However, it's all balanced on a knife-edge. Alibaba refused to give a forecast for the rest of the year, as Beijing's super-strict lockdown approach means it simply can't predict the impact of future restrictions. Everyone's holding their breath again.
Alejandro Luengo / Unsplash
Chinese stocks arrive at cooperation station
Ok, we've finally got some good news for US-listed Chinese stocks, but will it be enough to wipe out recent reversals? Looks good so far.


Chinese US-listed stocks were sent on a rally on Monday after a truly tumultuous year. Alibaba lifted 6.62%, JD.com and Tencent both jumped over 7.14%, Baidu bounded nearly 10%, and XPeng was up 8%.

China has signaled support for US-listed companies. The state has removed a key hurdle in regulation that stops the US from accessing the full audits of Chinese firms listed over there, after the SEC said that they may have to delist otherwise. Insert sigh of relief.

The two have been at regulatory odds for over two decades now, and investors have been paying the price of plummeting shares and ongoing uncertainty, so you can see why the rally ensued. However, China Beige Book International warns: "Global investors may be jumping the gun a little bit. Everything is very, very premature right now."

Alejandro Luengo / Unsplash
BABA's buyback bliss
Alibaba has been through some serious crests and troughs this month, but it's hoping a new buyback program will help renew investors' confidence.

🔍 Key points:


Alibaba saw its shares jump 11% in morning trading on Tuesday after the Chinese tech giant upped the size of its buyback program from $15bn to $25bn.

It's trying to keep investors keen in the face of a record slump, which has taken the stock to near seven-year lows. A buyback reduces the number of shares out there, therefore theoretically increasing their value.

But will it work? Alibaba has spent more on share buybacks than any other tech company since a crackdown in Beijing started the sector's decline in late 2020. This one marks its third, and yet its prices are still sitting more than 60% down from its ATH.

Illustration by TradingView
Chinese stocks are back with a vengeance
Upbeat capital markets comments from Beijing spark a dramatic turnaround in Chinese stocks, which were absolutely battered earlier this week.

🔍 Key points:


China's top financial policy body pledged to keep its capital markets steady by chilling out on the crackdown front, supporting overseas stock listings, and assisting property and technology companies – it follows a sharp selloff that saw Chinese shares erase over $200bn in value in only three days to take prices to multiyear lows.

US-listed stocks had their best day since 2001 on Wednesday. The Nasdaq's Golden Dragon China Index gained an eye-watering 33%, Alibaba bounced nearly 37%, JD.com and Baidu bounded ahead nearly 40%, and Pinduoduo popped 56%.

But tech stocks are still haunted by ghosts of crackdowns past. Both Alibaba and Tencent are reportedly planning to cut tens of thousands of jobs in their first major round of layoffs since Chinese regulators targeted the brands. Alibaba is expected to cut up to 15% of its staff, potentially helping its rally yesterday, in an effort to release pressure on its balance sheet.

Jason Leung / Unsplash
Alibaba reports record low revenue growth
Despite beating estimates with its fiscal third quarter results, Alibaba reports slowing revenue growth that leaves investors feeling dubious about the future.

Key points:

Prices dumped nearly 7% in morning trading on Thursday to touch a three-year low, before curtailing losses to close down 0.72% thanks to a broader market recovery. Alibaba just beat on earnings estimates with CNY16.87 ($2.65) per share, but missed on revenue with CNY242.58bn ($28.06bn).

Both the top and bottom lines are seeing a serious slowdown. Earnings were down 23% y-o-y and revenue growth of 10% was its worst since going public – the organization is still struggling to conquer macroeconomic headwinds in China, as well as heightened competition in the e-commerce space and tightening regulation in the tech sector.

Its e-commerce business was important to investors, but the local market produced disappointing results – Chinese commerce profits (a massive source of revenue) fell 20% y-o-y, though on the plus side, international commerce saw growth of 18%. It's looking to diversify the business though, possibly into food delivery, so there may be new sources of revenue to rely on soon.

See all reported financials
Illustration by TradingView
Alibaba gets its head taken out of the clouds
The Biden administration has its eyes set on Alibaba's cloud unit as its next target, but can the stock handle another blow?


The stock dropped around 3% to start a reversal on any gains from last week's news that Didi Global (DIDI) could IPO in Hong Kong as soon as Q2.

Lawmakers are investigating whether the cloud division is a threat to national security, and will focus on how the business uses U.S. client data (and whether the Chinese state might be stealing it).

It could ban Alibaba Cloud from operating in the U.S. as it accelerates its scrutiny of Chinese U.S.-listed firms amid an ongoing trade dispute between the two countries.

Engin Akyurt / Unsplash
It's a Fine New Year
If Alibaba investors thought a new year would mean a new regulatory attitude, they've just been set straight.


China continues its regulatory crackdown into 2022 with brand new fines for Alibaba, Tencent and Billbilli. It's accusing the tech giants of breaking anti monopoly laws by not reporting up to a dozen new deals last year.

Alibaba has lost over 53% since China's top regulator first opened a probe into the Ant Ma group on Christmas Eve 2020.

Not everyone is spooked though. Charlie Munger's Daily Journal has nearly doubled its Alibaba investment in the past year, while its other holdings have stayed unchanged.

Tim Zankert / Unsplash
Alibaba wants to dump Weibo
Alibaba flirts with an all-time low as it considers dumping its stake in Weibo.


Prices dropped 2.4% on Wednesday, now down over 12% for December.

It might sell its 30% stake in Chinese social media giant Weibo to a state-owned media group as the government tries to curb the control of big tech in the region.

It's not all doom and gloom. Chinese regulators dropped an early Christmas present on December 24, finally legitimizing a legal loophole that lets Chinese companies list internationally – so any U.S. delisting fears have been waylaid for now.

Illustration by TradingView
Baba makes moves
Alibaba is going through a major overhaul of its e-commerce business, including a serious management shake-up.


Alibaba names Toby Xu as its new CFO as a part of a business restructure that will split up its international and Chinese digital commerce divisions.

It's trying to become more agile and accelerate growth as it faces a slowing economy, growing competition, and a regulatory crackdown. Didi Global (DIDI) is delisting in the U.S. as China makes international listings harder – is Alibaba next?

It's trading at its lowest levels since Spring 2017, down 30% since disastrous earnings on November 18.

Analysts lose the love for Alibaba
Poor old Alibaba has been having a terrible year, losing half its value since September 2020. And this week's news doesn't bring any comfort.


Its Wall Street price target has dropped for the 18th week in a row, as more and more analysts slash their expectations.

It posted disappointing earnings last week, missing expectations and trimming revenue guidance.

The price has lost almost 19% over the past two weeks, currently sitting at $136.52.

Baba gets bulldozed again
Chinese retail stocks are getting chucked out the basket after regulators release the latest series of antitrust fines.


Regulators fined Alibaba, Tencent (700), and Baidu (BIDU) (among others) for a slew of antitrust violations dating all the way back to 2012 – all three edged down in Monday trading.

It's the latest in a long line of crackdowns that have spooked investors this year. The MSCI China has lost 13% in 2021 so far, compared with a 27% jump for the S&P 500.

Illustration by TradingView
Alibaba expands its European investment
As the European e-commerce market booms, Alibaba will be competing with Amazon and expanding its European operations ahead of this years' Singles Day.

While Amazon is the clear current winner of the hearts and wallets of the European people, Alibaba makes it clear it will be muscling into the territory and investing heavily in operations before Singles Day this year. Singles Day is a Chinese holiday that celebrates people not in relationships and sees a rush of shopping and sales – like the Chinese version of Black Friday. A bunch of businesses on Alibaba have expanded into the European region recently, where the e-commerce industry is growing rapidly – NielsenIQ said in a report in June:



It's time for the next stage of e-commerce growth in Europe.


Overtaking Amazon might not be such a stretch, given that Alibaba is already a top three shopping platform in eastern Europe, where Amazon hasn't even cracked the top 10.
BABA: One year and $344bn down
Alibaba founder Jack Ma gave a blunt speech this time last year condemning China's communist government, bringing down its wrath on his e-commerce giant Alibaba that has made history – but not in a good way. The company has since become the subject of a regulatory crackdown that has left its stock reeling, along with the rest of the tech industry in China, and Alibaba has lost $344 billion in value since the infamous speech – the largest ever decline in shareholder value globally.
Is the threat of a Chinese crackdown actually over?
Alibaba is currently enjoying a monthly increase of nearly 20% after spending the last three months in the red, but traders warn that Chinese stocks aren't in the clear with Chinese regulators yet.

Chinese e-commerce platform Alibaba has gotten investors buzzing this week, releasing a new processing chip on Tuesday as the e-commerce platform tries to bulk up its cloud computing business, which it sees as an important part of its future growth. Other Chinese stocks have made a comeback this month too as China's reign of regulatory terror seemed to come to an end – stocks like BiliBili (BILI), Baidu (BIDU), and JD.com (JD) have had impressive October's too, but there are some warning against getting too excited. ERShares chief investment strategist Eva Ados says:



We would advocate no more than a small risk speculative position when it comes to China. Much of ([the rebound), we believe, is because of the big overreaction we saw earlier in September. The risk, the regulatory risk, is real. It's unpredictable. It's here to stay, and many companies that we're tracking are still grappling to meet the regulatory demands. There are two key factors when it comes to investing in an emerging market: the foreseeable future growth and the perceived risk. In the case of China, you have a big decrease in the foreseeable expected growth.


Alibaba is currently trading at its highest levels since the start of September.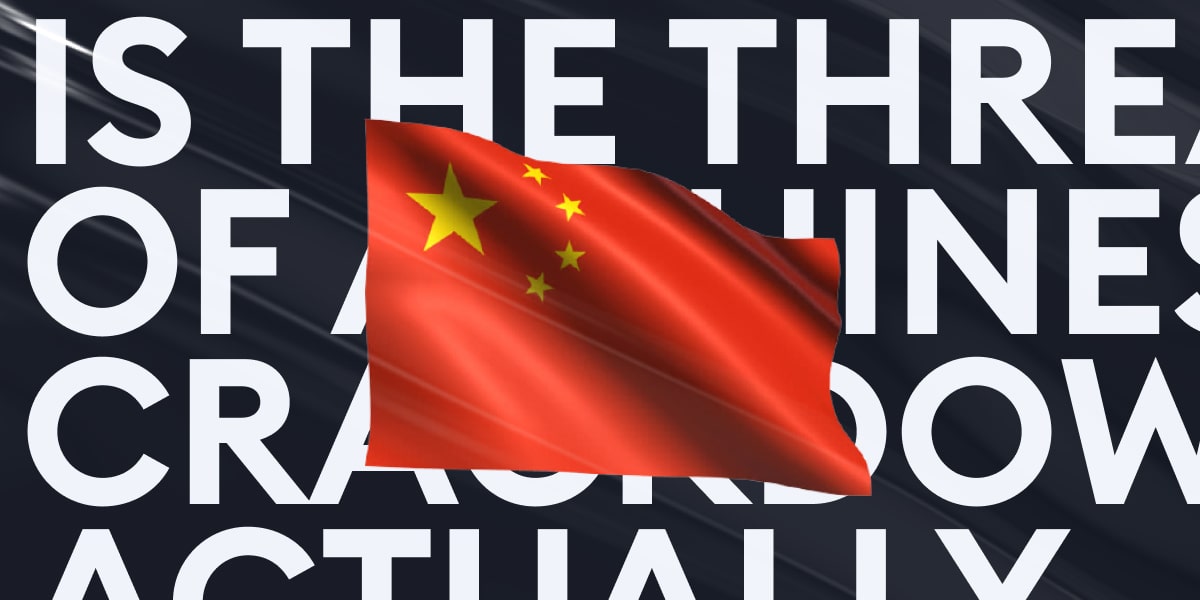 A Jack Ma sighting thrills investors
Alibaba leaps up to its highest closing price since mid-August after CEO Jack Ma appears in Europe following the release of a brand new chip.

Alibaba has gotten investors buzzing this week, first releasing a new processor, called Yitian 710, on Tuesday as the e-commerce platform tries to bulk up its cloud computing business, which it sees as an important part of its future growth. Prices jumped over 6% in the U.S. to its highest closing price in over two months on Tuesday, boosted by a Jack Ma sighting. Shares were up 9% in Hong Kong trading after the mysterious founder, who has been MIA for around a year now, was spotted in Spain enjoying a luxury vacation – so the last year can't have been too bad for him. Tariq Dennison, wealth manager at Hong Kong-based GFM Asset Management, said:



There is no doubt in my mind that Jack Ma no longer being missing would have at least a 10% impact on Alibaba's share price, as that has long been one of the uncertainties many investors have had about the stock.


Alibaba is currently enjoying a monthly increase of over 20% after spending the last three months in the red, and closed Tuesday up 6.10% at $177.
Alibaba challenges Big Tech
E-commerce giant Alibaba launches its latest server chip, which will boost its cloud business into competition with big dogs like Amazon and Microsoft.

Alibaba's new processor, called Yitian 710, was released on Tuesday as Alibaba tries to bulk up its cloud computing business, which it sees as an important part of its future growth. The Chinese platform. Jeff Zhang, president of Alibaba Cloud Intelligence and head of Alibaba's research arm Damo Academy, said:



Customizing our own server chips is consistent with our ongoing efforts toward boosting our computing capabilities with better performance and improved energy efficiency.


The pandemic has accelerated how quickly the world has switched to the world of the digital, and as demand for cloud services skyrockets, companies are having to create increasingly powerful semiconductors to keep up. Alibaba's new chip is one of the most powerful from a Chinese firm thus far, and the company is hoping to join the big leagues against Amazon and Google.