SHIB saddles up
The meme token extraordinaire Shiba Inu is ready for its next big leap – a full blown layer 2 network.


The developers of Shiba Inu are preparing to launch the beta of Shibarium – a new layer 2 Ethereum network. The network's transaction fees will be paid in BONE, which is the native token of the existing Shiba Inu DAO (decentralized autonomous organization).

BONE saw gains of 18% last week as anticipation for the network grew, as it's set to become the token which validators of the Shibarium network are rewarded with. SHIB itself also capitalized on last week's crypto rally – rising 23% over the course of the week.

One of Shibarium's most highly anticipated features however is a token burning mechanism for SHIB, which means the token's supply is reduced when transactions are carried out. It also comes after Dogecoin released its own layer 2 network in the summer last year.

Ferhat Deniz Fors / Unsplash
The metaverse effect… or not
Metaverse madness is coming head to head with unbreakable market bearishness.


The Shiba Inu team have released a new metaverse update, with a blog post on Tuesday announcing that a new art concept designed by visualization studio The Third Floor has been accepted into its community.

Investors however don't seem to be too excited by the announcement. In fact, 24-hour trading volume of SHIB actually dropped by more than 10% yesterday to around $178m, with little indication of any rallies on the horizon.

SHIB's not the only pup who's been pushed down by the market. After rising almost 10% on Tuesday after news of Elon's turnaround on his $44bn Twitter buy-out, DOGE dropped by almost 5% as the excitement wore off – guess you can keep a good dog down after all.

GuerrillaBuzz Blockchain PR Agency / Unsplash
Look at that puppy go
Shiba Inu runs slightly ahead of the crypto pack on Thursday as soaring burn rates get people's attention.


Shiba Inu popped just under 14% on Thursday before closing the day up just over 6%. The token is running around faster than a dog off the leash, hitting a weekly high yesterday and trying its damndest to recover from last week's 20% loss, which had come on the back of a 40% rally the week before.

The token's burn rate has been spiking recently. Nearly 110m tokens have been burned over the last 24 hours and now over 40% of SHIB's total supply has been burned overall. Those who burn their tokens get a yield-generating token dubbed burntSHIB, which pays out rewards in something called RYOSHI.

There's some other exciting stuff happening in the Shibverse that investors seem keen to get in on. There's growing excitement around the launch of its layer 2 blockchain, Shibarium, and the Shibaswap DEX that the team launched has seen its user base hit a new all-time high recently.

Ferhat Deniz Fors / Unsplash
Meme coins are begging for a petting
Investors are blowing on those dog whistles this week and crypto's fave meme coins come running.


Shiba Inu had its own lil Super Sunday, jumping over 33% to mark its best day of 2022 so far and taking prices to their highest prices in over 3 months. Shiba was joined on its run by fellow doggy-themed joke token Dogecoin, which closed up over 12% on Sunday and is currently enjoying its best month of the year.

There doesn't seem to be an obvious catalyst for the gainz, but trading volume for both has been jumping higher than a Shiba puppy when he sees his leash, with SHIB seeing $3.41bn in trading volume over 24 hours this weekend. The two coins have been battling for supremacy the past few months, flipping each other in market cap – a battle that Doge is currently winning.

It comes amid broader retail-investor enthusiasm in the market, helped by excitement over Ethereum's upcoming merge. Major cryptos have seen a shift in sentiment the last couple of weeks and bounced back from recent lows, with Bitcoin hovering around its highest price since mid-June, Ethereum up over 60% in the last month, and the overall crypto market is up 25% in the same time.

Ferhat Deniz Fors / Unsplash
Pyromania Pooch Disease
Smoke plumes out of the kennels once again as SHIB opens its burn portal to investors.


The 'ShibaBurn' mechanism aims to centralize the effort of mass burning SHIB tokens. By hosting the events in one place and simplifying the process for the SHIB Army, the canine crypto hopes to garner more interest in the ritual.

The burn portal has two advantages for SHIB holders: firstly, those who burn their tokens can earn a passive income through earning ROSHI stored in a reserve stacking 0.49% of ROSHI transactions. And secondly, burning (if done enough) will see the price gain value on a cost/demand basis.

8 billion SHIB have already been burned. Despite the burning efforts, SHIB slumped 5% in the first few hours of Monday's trading. While it finished the day 1.5% up, the token is almost 70% down from its highest ever close in October.

Shib hitches a ride on Robinhood's flying arrow
Doggy coin fans, this is not a drill: Shiba Inu has finally earned itself a spot on Robinhood – along with four other altcoins, all of which seem happy as Larry with the news.


Robinhood adds four new tokens to its exchange as the brokerage tries to bulk up its crypto offerings and "make Robinhood the best place to invest in crypto" – the tokens included Shiba Inu, Solana, Polygon's MATIC token, and Compound's native token.

Dog-coin fans have been calling for a SHIB listing in particular for months now, especially after associated joke coin Doge brought in 62% of Q2 revenue last year – but the company said it needed to jump through the appropriate regulatory hoops first, which it apparently has.

All four enjoyed a rally on Tuesday. Shib led the pack by a long way, closing up over 21% in an erratic day of trading that marked its best since early Feb, Solana soared 9% before closing up 3.5%, Compound lifted over 9%, and MATIC jumped 4.3%. As Robinhood's trading volume declines, look out for more listings on the way.

Robinhood
The dogs are out of the VR cage
Shiba Inu developers have launched a new virtual reality venture – SHIB: The Metaverse.

🔍 Key points:


The 'Shibverse' will be formed on Shibarium, a sidekick system for SHIB, and will allow users to buy virtual real estate represented by NFTs. While the details aren't clear yet, buyers are expected to be able to monetize their land and earn a passive income off their stately homes.

100,000 land plots will be available to buy, starting with an initial release of 36k plots. An undeclared portion of these plots will be privatized by the developers and used as a way for players to commute across the map of the metaverse.

This project will create yet another method to burn SHIB tokens – and, as we all know, less supply (typically) = higher value. While landowners will have to buy their plot using ETH, they can rename it through SHIB, where the token amount will be burnt upon purchase. SHIB rose 5% over the weekend – a quiet interlude all things considered, especially given its usual hunger for volatility.

Enter the Komodo dragon
Blockchain protocol Komodo teaches SHIB some new tricks as it launches a decentralized exchange (DEX) dedicated to the meme token.

🔍 Key points:


Komodo is launching a ShibaDEX to run on the cross-chain AtomicDEX, which has already recruited Polygon, Avalanche, and Harmony. The DEX will allow the token to be traded outside of a single chain, like Ethereum's ERC-20, while still letting users trade SHIB for, say, Bitcoin.

Developers will be wagging their tails to welcome the news, given their efforts to bridge the token across to the wider cryptoverse. Currently, SHIB is still finding its paws, but its increased adoption (including being listed on Robinhood) will come as good news to investors.

As always, the token had the zoomies on Wednesday, with the price rising almost 10% only to cool down and end the day 5% up. More could be on the way too – decentralized exchanges run higher risks of rug pulls and devs emptying the liquidity doggy bowls than your average CEX.

Oleksandr Horbach / Unsplash
Shiba's busy week of burning
Shiba Inu's price trots upwards as investors continue to cut the supply via its token-burning system.

🔍 Key points:


The token's value rose approximately 17% on Monday before closing up a modest 2.6%. Monday's closing price was the highest since Feb 18, as the second-most popular canine currency continues to feel the burn.

Burning is the process of sending a coin or a token to an unusable wallet, removing it from the circulating supply. In the case of SHIB, this is helping to lessen the eye-watering 550tn tokens currently in use – the less in supply, the more the value per coin.

On Monday alone, the so-called SHIB army burnt a reported 303m. The overall token supply has decreased by over 250bn since Q3, and its weekly burn rate has jumped around 12,000%. But, they've still got a loooong way to go if they ever want to see SHIB hit a dollar per token…

Ferhat Deniz Fors / Unsplash
Who let the dog coins out?
The team behind one of the market's fave meme coins is getting ready to let more dogs off their leash in the Metaverse.

Key points:

The Shiba Inu development team is bringing dog coins to the Metaverse. A blog post says it wants to "lead this Metaverse sector" and will soon release virtual "Shiba Lands" plots that can be both bought and auctioned off.

This will all happen in the "Shiberse", which they described as an "immersive experience" made for the Shiba ecosystem – we guess investors are keen because the token rallied 6% on Wednesday.

It wasn't the only one – the Doge Killer (LEASHUSDT) token raced 44% on Wednesday after the dev team said that anyone who wants first access should buy and hold LEASH before the launch.

Shiba is the big dog of the day
Shiba Inu has been making solid inroads to recovery as the rest of crypto stabilizes, partly thanks to a new fast-food partnership.

Key points:

The token is rallying this month, up 54% in February so far after a six-day winning streak – it's trading at its highest levels since the end of December, leading the crypto recovery.

Its recent deal with Welly's is lending a helping hand. Welly's is an Italian fast-food brand, and it's starting to produce Shiba-themed products and NFTs for customers.

Trading volume was through the roof in the last 24 hours. More than $2.7bn in SHIB tokens changed hands on Monday, up over 250%, and the rally has pushed Shiba back into the top 15 cryptos.

Jaycee Xie / Unsplash
Shiba gets put outside
Robinhood puts Shiba Inu outside in the freezing cold despite many a scratch at the door.


The crypto plunged below a $15bn market cap on Tuesday after sinking 2.6%, now down nearly 70% from its all time high in October.

Dog coin fans everywhere have been begging for a Robinhood listing for months, but the trading platform now says it's holding off for some regulatory clarity before opening its door.

Is there space for more than one dog coin in front of the fire? Regulatory clarity could take months, and while it waits to increase its real-world utility, rival Dogecoin seems to be squeezing inside with the help of an inside man (Musk, we're looking at you).

Ferhat Deniz Fors / Unsplash
The whales are in town
Shiba Inu has bounced over the past week as whales add big to their coffers in time for the holiday season.


The price has jumped 25% so far this week, with a 10.5% gain yesterday.

Whales are driving the surge. One wallet bought 4trn tokens for $134m on Tuesday.

Shib is one of 2021's crypto superstars, and it's currently the 13th largest by market cap. Not bad for a Doge joke.

Iswanto Arif / Unsplash
Embracing the Shib
Shiba Inu gets a flurry of love from the crypto-friendly retailers of the world, taking another step into mainstream adoption.


Shib lifted 6.33% on Saturday, though Monday's 10% losses saw prices erase nearly all of their October rally gains.

GameStop (GME), Lowe's (LOW), and Nordstrom (JWN) all started accepting the cryptocurrency, joining a long list of merchants that want Shiba on their leash as it becomes more mainstream.

GameStop's embrace will make the Shib army happy. They launched a petition for the video game retailer to accept Shiba that got 60k signatures out of its 75k target.

Ferhat Deniz Fors / Unsplash
Kraken pets the Shiba
Shiba went on a 24-hour bull run after getting validation from a brand new exchange listing.


The token soared 28% in 24 hours to a two-week high, though prices still ended the month down nearly 30% after October's rally to the top.

The jump is thanks to a listing from The Kraken exchange, one of the biggest crypto platforms in the world. They've got history - Kraken previously backed down from a Twitter poll promise to list the token, sparking criticism from Shiba fans.

Shiba hits a million
Everyone's new favorite puppy dog has been a very good boy this week, and he's only getting gooder.


Shiba Inu hit a million holders this week, a major milestone.

It also got listed on Korbit, a major South Korean crypto exchange.

It's been volatile recently, but its Head of Projects has teased the possible launch of Shibu Games, which could send the token shooting skywards.

Daniel Bernard / Unsplash
Shiba gets left in the doghouse
The downwards trend continues, and Shiba is being abandoned by the retail traders that so lovingly adopted it during the pandemic. Remember, a dog is for life, not just for lockdown.


The meme token is down 41% for November after seeing gains of 830% last month, and the stats show waning interest.

It accounted for just 6.27% of Coinbase trading volume last week, down from 25% in the first week of November and sinking to third place behind Ethereum and Bitcoin.

The bad news keeps on coming. Hot new token Avalanche kicked Shiba out of the Top 10 cryptos list last week.

Illustration by TradingView
Are dog coins left out in the cold?
The market is sending dog coins back to the kennels this month, and analysts predict more losses on the way.


Shib is down 32% this month after outrageous gains of 830% in October.

Analysts predict a "reversion worthy of its parabolic rise," a rally that Bloomberg's Mike McGlone thinks was pure speculative froth on the market.

Shiba gets the Coinbase nod
The up-and-coming dog coin gets an invitation to join the alpha pack.

🗽 Coinbase (COIN) adds joke coin Shiba Inu to its platform, though only for residents of New York (for now).
🎢 Shiba has slowed its roll recently, but prices pumped 26% when the news hit on Friday as the #ShibaArmy rejoiced in another major exchange listing.
🗣️ Fans have been calling for a listing on Robinhood (HOOD) since Shiba started its meteoric rise in October, so Coinbase (COIN) is a step in the right direction.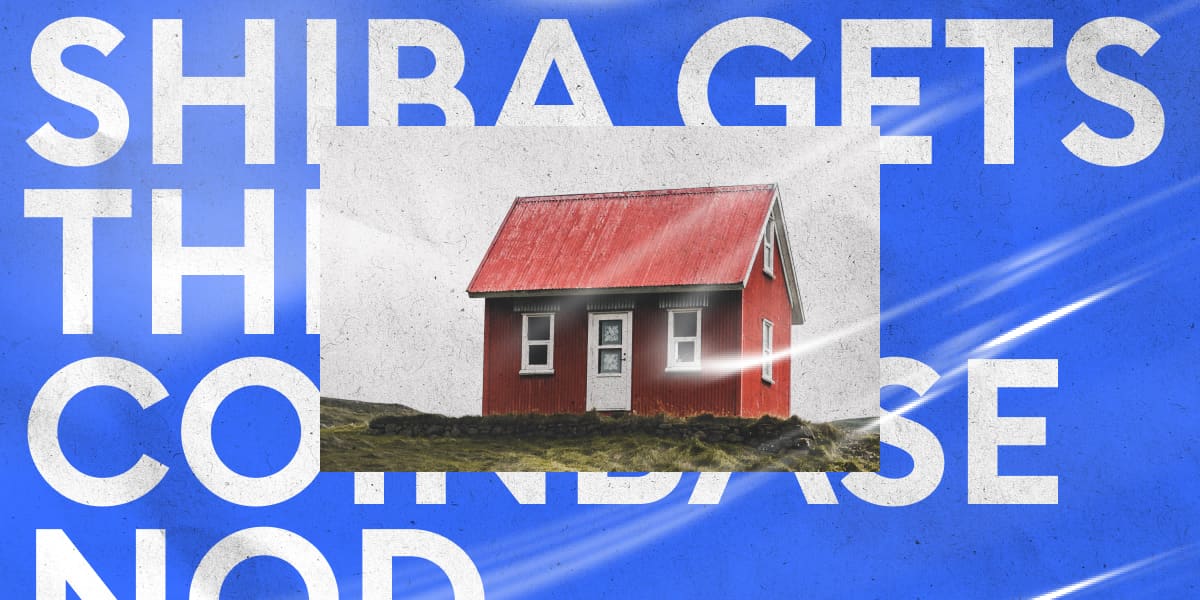 Shiba Inu muscles in
After a spectacular rally this week, dog-themed joke coin Shiba Inu makes it into the top 10 cryptos list.

After a 65% jump on Wednesday, Shiba Inu popped to a new intraday high on Thursday and muscled into the top 10 cryptocurrencies by market cap before sinking down 13% for the day. Though it's been around since 2020, the coin has got people's attention this month with its 900% gains – its market cap hit a new high of $42 billion on Thursday to be number 8 on the list. Analysts are weighing in on the fad, with Rick Meckler, partner at Cherry Lane Investments in New Vernon, saying:



It seems driven by fad buyers hoping to get in now and flip later to what will need to be a new series of buyers at even higher prices. This makes it closer to a collectible market than a currency market, and as such determining value with traditional analysis seems impossible.


Chris Kline, co-founder of Bitcoin IRA, added:



Shiba has posted incredible gains on speculation that it will rival or replace the concept of dogecoin and its utility.


Mati Greenspan, founder of crypto analysis and advisory firm Quantum Economics, gave his two cents:



People are always looking for 'the next Bitcoin'. Get rich quick is a very powerful motivator.